Reflections on the 2022 National Convening and how we plan to help coal communities seize this historic moment
For many attendees at the Just Transition Fund's 2022 National Convening in Washington D.C.—a two-day event to foster collaboration and promote local economic solutions—it was their first big in-person gathering since the pandemic began. Based on what we heard from the nearly 150 community economic and workforce development practitioners, policy advocates, philanthropic partners, and federal officials who participated, it could not have come at a better time.
Changes in our economy, the political landscape, and the coal community transition movement in recent years are hard to overstate. Over that period, the JTF's community partners have kept economic transition on the national agenda. The Biden administration and Congress have passed legislation with billions of dollars to create jobs and revitalize coal-impacted communities and other places disadvantaged in today's economy. 
But those communities often face the highest hurdles when trying to access public investment. Everyone at the Convening shared an understanding that we all, whether in government, philanthropy, or working directly with affected communities have a responsibility to change that fact.
"We have more funding and more opportunities than we've ever had," said Gayle Manchin, the Federal Co-Chair of the Appalachian Regional Commission, in her remarks. "If we do not accept this challenge and move forward in a transformational way, it will pass us by. I don't think any of us can afford to let that happen."
Building a better future while respecting the "roots of our prosperity"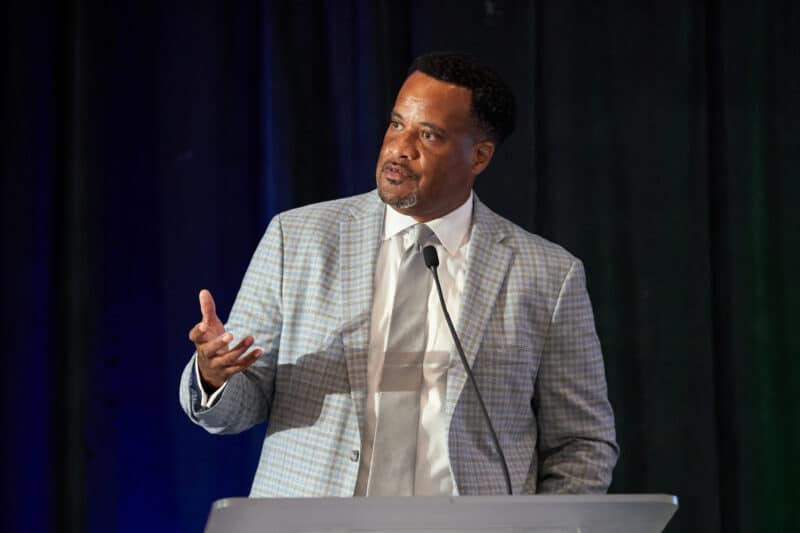 Themes that cut across the Convening prove that a common foundation for this work already exists. In his opening keynote address, Jay Williams, the President and CEO of the Hartford Foundation for Public Giving, noted that a just transition is not merely about investment. The focus on development, he said, has to be about more than just the economy.
"Economic and community development are related, but they are not the same," said Williams. "Community development goes to the things that are much less tangible, to the heart and soul of communities, how communities identify themselves." 
This point about the social aspects of economic transition resonated with the JTF and our community partners, who are partnering and thinking holistically about the health of the places they live and work. Recognition of a sense of loss in deindustrialized places and of the dignity of work for people whose jobs have been displaced were also themes that many returned to throughout the Convening, as was the dignity of work.
"The conversation has to start with a recognition of their dignity," said Williams. "The overall prosperity we enjoy has its roots in the coal mines in Appalachia and in manufacturing communities like Youngstown, Ohio, and Gary, Indiana."
But speaker after speaker recognized that the way work looked in the past has changed and will continue to change. Alex Weld, Executive Director of Generation West Virginia, described how members of the national media often only want to interview former coal miners, noting that the impact of the energy transition is far broader.
"Everyone in the room is affected by the coal decline. It's generational," said Weld, sharing that her organization's job training programs are constantly being adjusted to the needs of the private sector while serving "people who have been in the service industry, people who have been homeless, and stay-at-home parents trying to get back into the workforce."
Through gatherings like the Convening, we can bring a wide range of stakeholders together and challenge the misperception that only a sliver of the workforce is affected. The solutions that emerge and the partnerships that take shape or grow stronger in these spaces can lift up entire communities, taking into account what people want their hometowns to look like in 25 years, not just in the next year or two.
The potential for innovation and collaboration was another standout theme. During the "Made in America" session, Dr. Sanjiv Malhotra, the founder and CEO of the battery maker Sparkz Inc., shared stories about growing up around brutal coal mining practices in India. Seeing what workers there faced inspired him to collaborate with the United Mine Workers of America to train and hire unionized former coal workers for new manufacturing jobs in West Virginia.
Josh Nassar of the United Auto Workers agreed that sustainable labor practices are essential to a successful energy transition. "Not only is it the right thing to do to make sure workers aren't left behind—it's the only way it succeeds," Nassar said.
Applying lessons of the Convening to the work ahead 
Throughout the Convening, attendees exchanged ideas on how to overcome challenges they've faced applying for federal funding. Representatives from the National Economic Council, the U.S. Department of Agriculture, the Appalachian Regional Commission, the U.S. Department of Energy, and the U.S. Economic Development Administration heard community feedback and shared how their agencies are working to reach the hardest-hit coal communities.
"It's not just about getting a single grant but about changing the way funds flow to create long-term economic benefits in our communities," said Courtney Haynes of the Economic Development Administration during a moderated discussion called "What Federal Agencies Should Know About Supporting Frontline Communities."
"Organizations like the JTF and other NGOs are in a position of immense influence related to federal funding processes," Doug Lynott of the Economic Development Administration told everyone as the Convening wrapped up.
All of us at the JTF embrace this responsibility. We left the Convening with a long list of action items and ideas about how to improve the services and resources we offer. We collected feedback during every session on what is working and what needs improvement. And, as our Executive Director Heidi Binko noted about past convenings, we take every piece of feedback seriously and think carefully about how to incorporate it into our approach.
In the near term, we're launching our new Federal Access Center, through which we'll offer grants and technical assistance to help coal communities identify and apply for federal funding. We're also deepening our focus on rural broadband by investing in community-led efforts to design and secure federal funding for infrastructure projects that meet local needs. The JTF will continue to hold our primary grantmaking cycles to scale local economic and workforce development initiatives and to advance state and federal transition policy. 
Our team was honored that so many community leaders from around the country made the time to join us, and we're grateful to them, to our funding partners, and to the speakers and panelists, all of whom made the Convening such an incredible success.
Subscribe to the Just Transition Fund's newsletter for updates on JTF grantmaking and federal funding opportunities and for the latest news from the field.
<< Back to news